If you are looking to promote your brand and company you've come to the right site. WE ARE promotional product experts with over 35 years of print experience. We are committed to your success. Whether you are looking for a specific item or just browsing for ideas, our site is your one-stop shopping source. You will find fun and creative ideas as well as the traditional tried and true. You can easily search for some of the hottest items on the market, and we are here for you 24 hours a day - 7 days a week. Quickly and easily search our vast database of products and keep your company name top of mind:
*Printing and direct mail
* Improve traffic at trade shows
* Increase safety awareness
When you find what you are looking for, please contact us so we can discuss your needs in greater detail, or use our shopping cart to submit your order - our secure check out makes it safe, easy and convenient. If you are just browsing, click on our 'request for more information' option and we'll get back to you.
Featured Item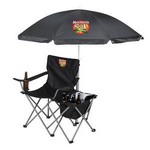 Party Chair
Quad chair with beach umbrella and side table/cooler.  Rated at 300 lbs, our latest combo chair comes with a 12 can cooler and 6'  beach umbrella.  All fit in a carry bag.  Price includes imprint on c...
$60.00 - $67.00